The Genomics course was taught in Spring 2015. We are considering offering a course in Advanced Scientific Programming for Spring 2016. Please contact David Pollock if interested.
See our guest blog post on "Adaptation and Convergence in Regulatory Systems" at phylogenomics blog "This Tree of Life"
We invite you to attend our third SMBE Satellite meeting/workshop on Mechanisms of Protein Evolution (MPEIII:Origins) in Denver, November 8-10, 2015. Mark your calendars. Register soon as space is limited Organizers: David Pollock, Richard Goldstein, and Belinda Chang.
We are always looking for multiple talented evolutionary biologists with a mixture of training in mathematical, computational, and molecular laboratory techniques. We are especially interested in candidates at the postdoctoral level; please contact us well in advance to arrange funding. Contact David Pollock.
Kenji Fukushima started as a Japan Postdoctoral Fellow in Spring 2015. Postdoc Rob Ruggiero is moving on to work with Stephane Boissinot at NYU Abu Dhabi, Corey Cox is downstairs in Pharmacology, and Jaime Merlano got his Masters.
A new version of PLEX (0.95) is up, along with a new extended user manual.
I uploaded Saturate code, but use at your own risk. Please let me know if you get it to work.
We've aborted the laboratory blog. May try again when we move to a better web service.
Updating programs: PLEX, PCLOUDS, CodeMLAncestral, TFCoEvolve, SULDEX
"I would describe...how passionately, how incandescently, how incestuously...art and science meet in an insect" Nabokov (now vindicated)
The Genome 10K project is moving forward, a project to assemble a collection of DNA sequences representing the genomes of 10,000 vertebrate species. Working towards integrating our work on snake and mammalian genomics.
Snake Genomics web site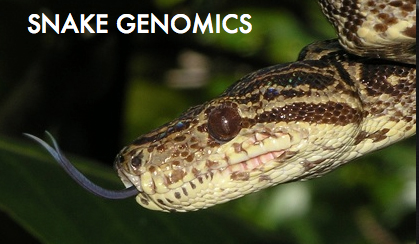 NLM Training Grant postdoctoral fellowships are available yearly on a competitive basis to US citizens and naturalized people. See Computational Bioscience Program for more information.